Founder & Director
Stefan
Batorijs
Stefan has been exploring the remote, wild edges of life for over 50 years, and considers himself gloriously blessed to be living on the edge of Dartmoor. Stefan trained originally in Countryside Management, Conservation and Environmental Education at Merrist Wood Agricultural College. He is a qualified Integrative Psychotherapist and Mountain Leader, with 30 years experience facilitating individuals and groups in natural environments.
In 2008 Stefan established the highly acclaimed Ecotherapy Project with Plymouth NHS, for people with severe and enduring mental health needs.
Stefan is currently an Associate Lecturer at Plymouth University. He teaches the role of Nature and the benefits of natural immersion for mental health and recovery from trauma on the Clinical Psychology Doctorate Training.
Stefan is passionate about trees, birds, sacred land and community. He loves being in the sea, and watching films, but not at the same time.
Stefan is a member of INFOM, the International Society of Nature and Forest Medicine and a member of the Eco-psychology Network.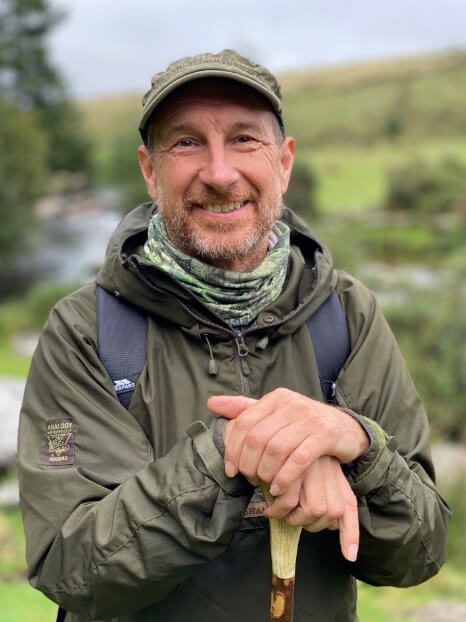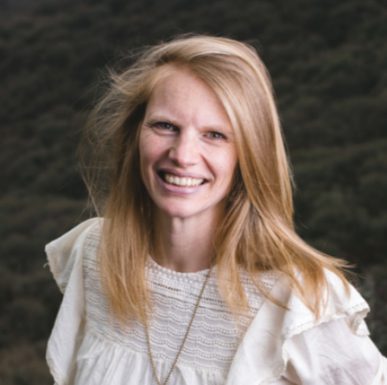 Operations and Marketing Manager
Primrose Russell
Primrose is a naturopath, homeopath and entrepreneur passionate about health and wellbeing, conservation and regenerative solutions for the planet.
She is your point of contact for enquiries, bookings and collaborations and is here to support your discovery journey at Nature and Therapy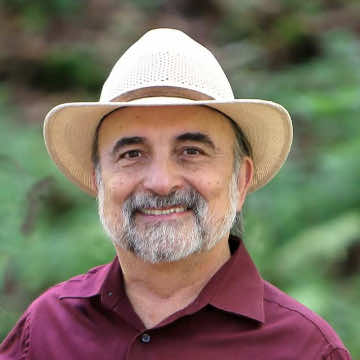 Carlos
Carlos comes from many places. Italian genes, born in Argentina, Canadian by choice and now living in Bavaria. No matter where he has lived, nature has always been a pivotal part of his life. Growing up in a vineyard, part of his family farming business in Argentina, he always spent most of his free time outdoors, among, and often on, trees.
Forests have always been his passion and fortunately he's had the chance to "mingle" with a very diverse range of trees, like ancient eucalyptus specimens in his childhood in Argentina; maple, birch, oak and a extensive selection of conifers during his life in Canada and now, the European families of beech, chestnut, linden together with spruce and fir in his new life in Bavaria. His instinctive attraction to trees was then strengthened by learning about the Japanese practice of Shinrin-Yoku or Forest Bathing.
He studied Shinrin-Yoku techniques in England, Germany and Japan. He developed a Forest Therapy program influenced by his mentor Dr. Yoshifumi Miyazaki and his 30 plus years of research showing the overwhelming evidence on body and mental health benefits of "Forest Therapy" (Dr. Miyazaki coined this term himself back in 2003).
Carlos co-founded Universe Mindfulness with his wife Emma, with the idea of offering wellness escapes throughout Europe with the main theme of Mindfulness in Nature, guiding participants to become reacquainted with nature and to reconnect with it in a deeper and more healing manner than ever before.
Emma
Emma Pritchard spent her childhood in Staffordshire amongst nature and was often found climbing trees, reading books, and enjoying many holidays in Cornwall, Dorset, and Norfolk. In 2009, Emma moved to Dorset with her family and began a personal and spiritual reconnection with nature while walking along the beautiful Dorset coastline and amongst Thomas Hardye countryside while raising her three children, now teenagers.
Since 2017, Emma has worked as an accredited counsellor in outdoor spaces and now works solely in woodland spaces as a counsellor, integrating her qualification as a certified forest therapist. Emma offers both one-on-one and group sessions with her clients and intuitively works with woodland folklore stories, symbols, and imagery to support her clients. She specialises in bereavement, grief, and loss, supporting young people and families and young people with special educational needs. Emma currently works alongside Dorset schools and young people professionals to support the mental health and wellbeing of young people in outdoor spaces.
Jan
Jan grew up in the Yorkshire Dales and spent her childhood playing out in the fields and woods. That delight of being on her knees exploring a little stream, the cobwebs at the base of a tree, or an animal track has stayed with her all her life.
She spent time in Japan, where she learned to appreciate a different sensitivity to nature and beauty. She also worked as an Educational Ranger, taking city kids into the countryside and giving them the chance to explore, learn to trust, and then to love nature. She now runs a clinic as a holistic therapist in the Bowen Technique, working alongside her clients to help them overcome their physical ailments and proactively focus on their well-being.
She now practices as a Forest Bathing guide in several ways: one-to-one with some clients in her clinic as a healing practice, group walks focused on wellbeing in partnership with local organisations, and online. She runs a YouTube channel where she explores and shares her reflections on nature connections.
She is passionate about sharing forest bathing, not least because it means so much to her personally; her daily walk has helped her tremendously in times of difficulty, and she has seen what a powerful positive impact this seemingly simple practice can have on people's lives. She also believes that connecting with nature holds answers to our current environmental crisis: 'what we love, we protect'.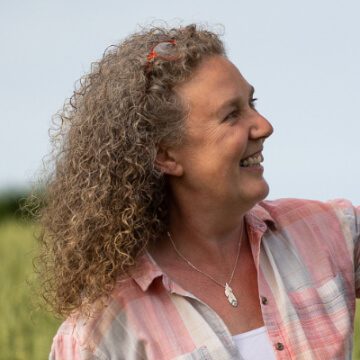 Karen
Karen spent her early years growing up in south-west Scotland, and her love of nature and birds of prey grew in this magical place. She spent 3 years (in her teenage years) working as a volunteer ranger, guiding people on walks through local ancient woods. That sense of being at one with nature has never left her.
Academically, she has an Environmental Science degree and a Masters and PhD in Environmental Geochemistry and Ecotoxicology – a deep understanding of the damage mankind has done to our precious planet. As an academic, she regularly taught ecology, conservation studies, soil science, and environmental law at three universities. 
For the past 30 years, Karen has also been pursuing her spiritual connection with Mother Nature and has explored and trained with many teachers on the ancient ways of understanding our relationship with the Earth, bringing in the shamanic traditions of North America, South America, and Celtic Shamanism. Teaching and guiding people to work with Plant Spirit Wisdom, Bird Spirit Wisdom and Deep Earth Connection.
She has also been a falconer for the last 20 years, with eight birds of prey in her family. Based in Somerset, she regularly holds clinics for people co-working with her Birds of Prey and the forest for a deep animistic healing experience. She is the director of a new CIC 'Wild Connections Centre' offering Animal & Nature Assisted Therapy to those groups that are in need of mental health and wellbeing services, due to be launched in February 2022.
Her passion has always been to connect people back to the non-human, back to who they really are, and to get people to listen to the wisdom of the world around them.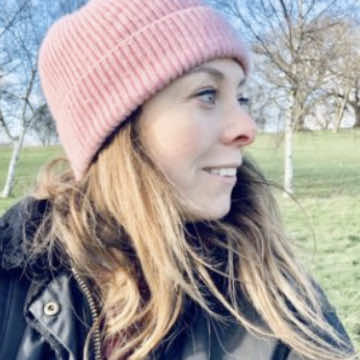 Katie
Katie is a London based Shinrin-Yoku Practitioner, Guide and Mentor, Forest School Leader, Creator, Speaker and the Founder and Director of Forest & Family, a nature connection social enterprise promoting the links between nature, health and happiness and empowering children and families to spend more time outdoors. She also runs Forest Bathing London, an organisation dedicated to making the practice of Shinrin-Yoku more widely understood, supported and practiced amongst Londoners.
Katie has extensive experience designing and delivering nature connection programmes, events, talks and services for a wide range of stakeholders and organisations. She is a passionate innovator and entrepreneur and a firm believer that 'we do not care about the things we do not know'. Katie holds an MSc in Poverty Reduction and Development Management and has previously held senior and strategic roles at several UK universities, and an early career in international development.
She is also co-founder of Rekindle Clothes a preloved children's clothes business and the yoga/wellbeing retreat Samyama Fitness.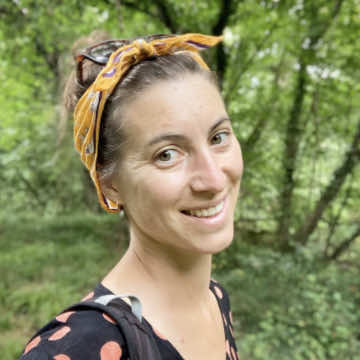 Lindsey
Lindsey grew up in rural Wiltshire and had a strong relationship with nature from an early age, she always felt deeply connected to places and landscapes, a feeling which led her to live and work in a number of different countries; spending time studying in the arctic circle, working on a conservation project in coastal Greece and protecting seabirds on the Isles of Scilly.
A career in conservation gave her opportunities to work closely with the land, protecting special spaces and inspiring people about the wildlife that lives there. The south west drew her back and it was Dorset where she settled and started a family.
Passionate about perinatal mental health and wellbeing, Lindsey started walking groups for new parents and trained as a mental health first aider and a dementia friendly event leader, as well as exploring more about nature connection and green therapy through conservation work.
In 2020 she set up Dorset Forest Bathing and has been working with individuals and groups across Dorset since then, alongside parenting two small children. Lindsey has a particular interest in bringing forest bathing to nature reserves alongside more traditional guided nature watching events, as well as leading dementia friendly nature connection walks.
Lucy
Lucy grew up in Dundee, Scotland – a city from where you can always see the hills, the sea and silvery River Tay. Family walks in the countryside around Dundee and a Quaker upbringing fostered a combined love of nature and sitting quietly in nature and just being. Lucy has always prioritised living and working in beautiful parts of the country – the Lake District, Argyll, Exmoor and now Aberystwyth on the west coast of Wales. Living in a rural area has always been the most important life choice; and bringing two children up with an appreciation and wonder for trees and nature.
Being outdoors in nature has always been how Lucy relaxes, gets life in perspective during stressful times, and connects to the other than human world – keeping an open mind to what 'spirit' or 'life force' could be at the centre of our lives. Listening to a bubbling burn (stream) in Glen Esk telling her "All is well, all will be well" at the age of 10 was a memorable deep connection to the natural world. From an early age Lucy has been acutely aware of human's impact on the natural environment, becoming vegetarian at 16 due to the environmentally destructive and cruel practices of the factory farming system. Lucy's climate activism started at age 21, campaigning with Greenpeace against fossil fuel giant Shell, sitting on their petrol station roof with banners. 30 years later and unfortunately the threat of climate change, and the heart breaking loss of biodiversity is acute, and Lucy has been taking part in Extinction Rebellion protests, most recently marching for the protection of the natural world, and for the future of humanity, at Cop 26 in Glasgow.
Working for National Parks for 15 years in community education and communications – promoting and providing experiences of special places to the public – to a diverse range of people, has led Lucy to believe strongly that if people learn about and experience nature they will appreciate and look after the natural world. This strong belief and love of being connected to nature led her to Shinrin Yoku – Forest Bathing. Lucy started her Shinrin Yoku journey in November 2019 with Nature and Therapy UK, completing the diploma as a Forest Bathing guide in Autumn 2021. Lucy has particularly enjoyed Stefan's approach of enabling participants on the course to follow their own journey and has enabled the experience to be intensely personal.
Having recently moved to West Wales, Lucy is building new contacts to offer Forest Bathing in the local woodlands and also to take people to a very special nature regeneration project that her partner manages, which includes areas of pristine Atlantic Rain Forest. Lucy and David are presently renovating a traditional welsh farmstead, overlooking Cardigan Bay and Aberystwyth. Lucy will be offering forest bathing retreats and nature walks to community support groups, health workers and anyone who is looking to experience what trees and nature have to offer for wellbeing and a sense of awe of our world.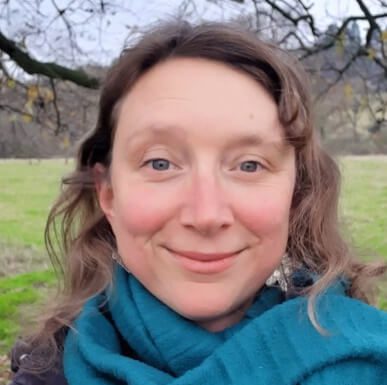 Nicola
Nicola lives in Bedfordshire and has fond childhood memories of roaming her local countryside and visiting wild and beautiful places. She has felt a deep connection with the natural world for as long as she remembers, which led to her studying for a degree in ecology, then later a master's degree in leadership and sustainability. Over the years she's enjoyed sharing with others her love, connection and understanding of the natural world.
She started her journey with Nature & Therapy UK in May 2019, and completed her Diploma training in 2021. She currently works in green social prescribing, developing links between social prescribers and those who offer green activities, increasing awareness and opportunities for wellbeing through nature. She also offers nature-based activities and forest bathing through her local Wildlife Trust and through her business Company of Nature.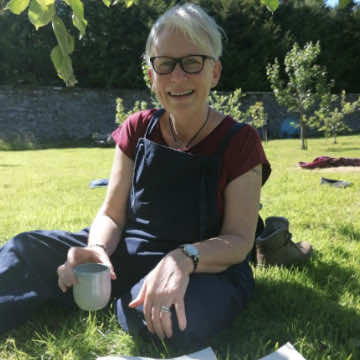 Ruth
Ruth has been a counsellor for seventeen years. Over this time, she has worked in a variety of settings and in private practice. She has a previous background in social care and the voluntary sector, working with children, young people, and women. Her life and work experience have given her insight into and understanding of life's complexities.
Ruth works outdoors and online with clients. Her nature-based practice and Shinrin-Yoku work are her passions. At present, she is studying for a certificate in ecotherapy with the Buddhist organisation The Tariki Trust, which is deepening my knowledge and spiritual connection to the natural world.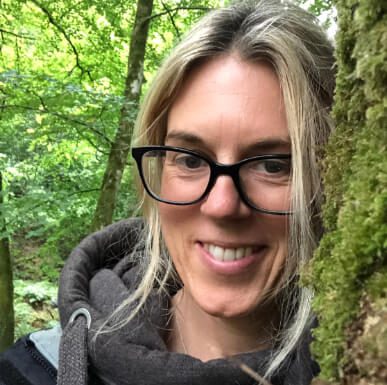 Claire
Claire was lucky enough to grow up in a family that loved nature and from an early age was always encouraged to spend lots of time outdoors, to be curious about the natural world, to look after it and to treat it with respect. She spent most of her childhood in Surrey, the most wooded county in England and some of her happiest memories are of roaming the countryside, playing in the woods and hours spent in her garden climbing trees and making dens. Claire now lives in the Oxfordshire countryside with her husband and teenage children. 
Nature has always been somewhere Claire has found peace and solace when the world feels too much and as an HSP this can be all too often! A period of ill health several years ago led her to retrain and she now guides people on a pathway to wellbeing through mindfulness, nature & sound. An advocate of slow and seasonal living, nature is at the heart of her work as well as her own self care practices. 
Claire sees our disconnection from nature as largely responsible for the myriad of problems we currently see in our world. She therefore feels passionate about helping people to reconnect with nature not only for their own wellbeing, but for the wellbeing of the planet as a whole.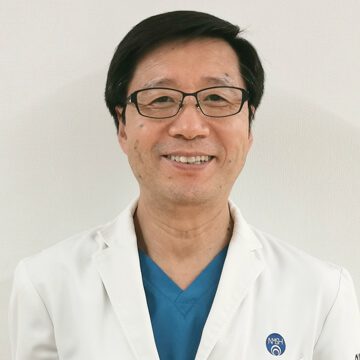 Dr Qing Li
Dr, Qing LI (MD, PhD) graduated from Shanxi Medical University in China and got PhD degree from Kagoshima University in Japan. He has studied at Stanford University.
He is a professor at Nippon Medical School, President of the Japanese Society of Forest Medicine, Director of the Forest Therapy Society, Vice-President and Secretary General of International Society of Nature and Forest Medicine (INFOM)
Prof. Li is the world's foremost expert in forest medicine and immunology. He has received Society Award from the Japanese Society for Hygiene in Forest Medicine in 2022 and University Award from Nippon Medical School in Forest Medicine in 2011 
Some people study medicine. Some people study forest. Dr. Li studies forest medicine to find out all the ways in which walking in the forest can improve our well-being. He started the forest medicine research (Shinrin-yoku/Forest bathing/Forest therapy) from 2004 and has published many articles in scientific journals and books in forest medicine.
His book: Shinrin-yoku  has been translated into 26 languages.
His book: Forest bathing was ranked in the bestseller list in the US.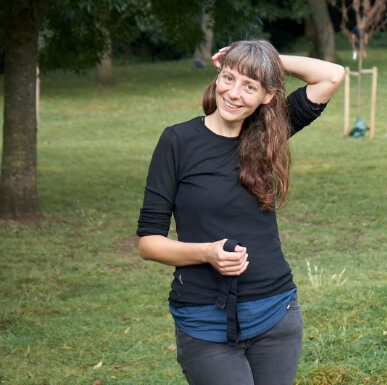 Kirsten McEwan
Associate Professor of Health and Well-being at the University of Derby.
Kirsten is happiest spending time in nature and was pleased to be able to bring together her passion for the outdoors and health and well-being research by becoming a Forest Bathing researcher and practitioner.
Most of her current research focuses on evaluating the effectiveness of Forest Bathing and making it accessible to wider audiences.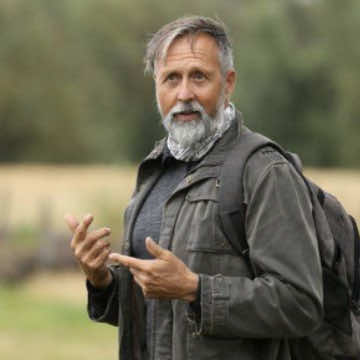 Layne Hamerston
Layne Hamerston is an award winning social entrepreneur with over 20 years experience kickstarting collaborative life changing initiatives that has changed the lives of thousands of people.. for the better.
Currently Community partnership manager for Bournemouth University, Director of Resurface Therapy, and founder of an immersive wellbeing community for men, Layne will be sharing his personal and professional journey with nature connection and its profound effect.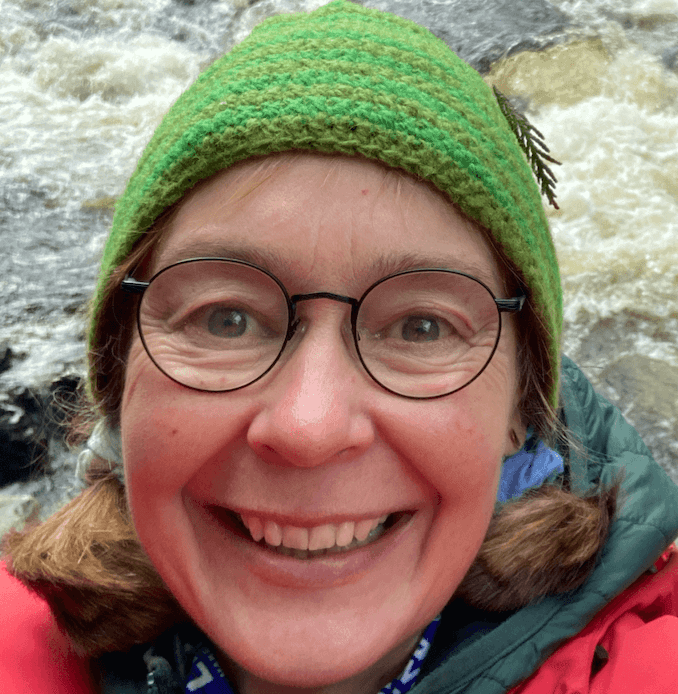 Dr Alexandra Gundry
Alexandra is our Medical Advisor and has been a Doctor for 30 years and works in Somerset,though previously in South Africa, Scotland, the North East UK, Canada and London. Despite enjoying the challenges and opportunities in the job, she always wishes she had done something more Nature related at University, so when not working she spends a lot of time outside in wild areas.  Before she saw any of the data she knew there was something very restorative about being in a forest! Now there is increasing evidence for the health promoting and healing properties of time spent in woodland, and she wants to share this with the widest group possible.