Experience nature's unique ability to de-stress.
Wander with Wonder walks
Nature and Therapy have been leading and creating bespoke events for organisations for about 30 years including with BT global, The Princes Trust, NHS, Torbay Social services, Exeter University, Paxton Access, Columbia clothing UK, Merrell.
We can create an outdoor or nature-based experience and offer staff an opportunity to decompress in an informal setting. These simple facilitated days are hugely powerful and effective at creating a destressing environment, improving communication, empathy, understanding, cohesion, and team identity. They also can bring to the surface any lingering or unresolved issues in a way that can lead towards resolution and greater harmony.
Our interventions can be part of an ongoing staff retention and wellbeing programme, bringing coaching and professional development into a natural setting, and as part of an integrated programme working with HR and 1:1 interviews to establish targets, concerns and requirements.
Escape the confinement of your office, join us in the gentle immersion of the Forest.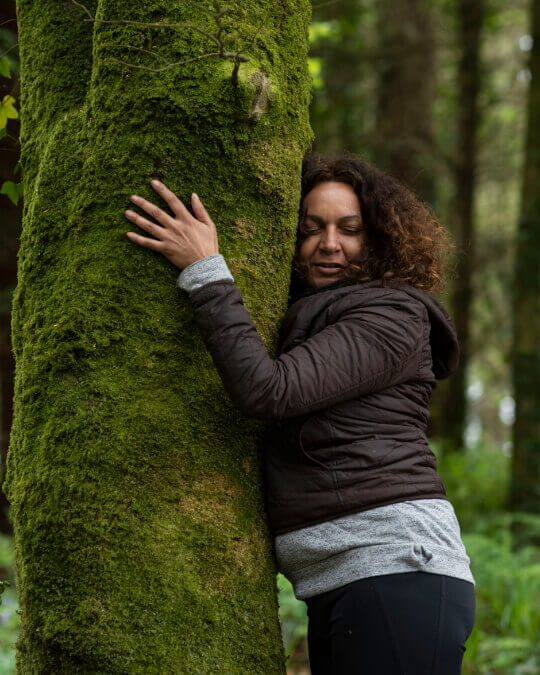 Dartington Woods
Forest Cafe
Our social prescribing project based at The Glade in Dartington Woods.
We meet fortnightly in the woods and offer free teas and coffees, craft activities and forest bathing. Please note we do not supply food. 
We welcome anybody who is experiencing difficulties or challenges in their mental health.  
"The Woods for Wellness programme has been transformational for me and has offered a welcoming space where I can be accepted as my authentic self, have respite from my mental difficulties, and find peace during a period when my life has been most turbulent.
Experiencing and connecting with the woods throughout the changing seasons, and engaging in activities to consciously channel my awareness through the different senses, has brought a new awareness of my own place within nature; I have felt humbled and relieved to realise my own insignificance."
Elly
If you are like myself and suffer with your mental health, I would highly recommend the woods for wellness group run by Stefan and the other facilitators who I have met at the fortnightly groups. It's in a beautiful setting and is a very friendly welcoming relaxed environment.
And I am now me and I like being me. No drugs no drink, just me and I feel great and my bank balance looks a lot better for it to.
The woods for wellness group has been a big part of my journey and I look forward to going to the group and meeting people like myself there, Stefan's knowledge of nature and how he helps you connect with nature is special and he is a very knowledgeable person… it's a group that does not judge who or how you are it's a very kind gentle relaxed environment that's also welcoming.
John